By: Jennifer Romano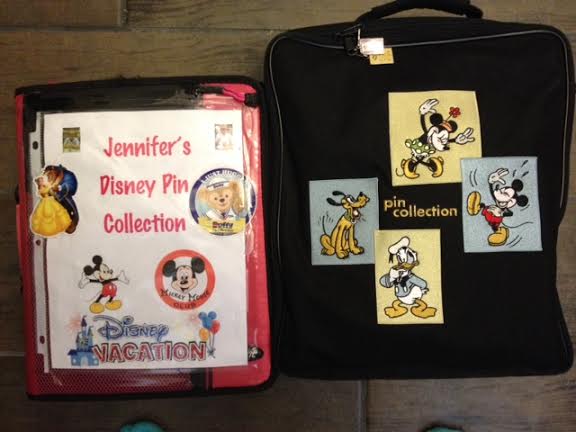 With all of the talk of showing your Disney Side lately, it got me to start thinking about all of the different ways in which you can showcase your Disney pins.  The most popular way to display Disney pins is on a lanyard, which is useful if you are visiting the parks.  Lanyards make it easy for other people to see your pins as well as for you to trade with castmembers.  Whenever I wear my lanyard, I always make sure to use locking pin backs because the little rubber pin backs can easily fall off when you are touring the parks.  The locking pin backs can be purchased in most of the stores on property, and they screw onto the backs of your pins by using a very small wrench to tighten the screw.  I never wear my pins on a lanyard unless they are locked in place.  In addition to wearing a pin lanyard to the parks, I also have some of my pins on lanyards hanging on hooks in my house.  I have all of my Christmas pins together, and I have another Epcot anniversary lanyard with Epcot pins.  One of my favorite combinations involves my Mr. Toad pins as well as my Bedknobs and Broomsticks pins. You can customize your lanyards based on a particular character, park, holiday, or really any unifying factor.
If lanyards do not work for you, you could also display your pins by locking them onto a hat or a vest.  I have many hats that I have decorated with pins that match the theme of the hat. For example, my Expedition Everest hat is covered with Animal Kingdom/Everest themed pins.  Also, I have seen many people in the parks wearing vests that proudly showcase all of their pins.  I haven't made a pin vest for myself, but they always garner a lot of attention from other park guests when someone wears one in the parks.  While I do not have a vest, I do decorate many of my bags with Disney pins.  Again, I try to keep with a particular theme, or I just decorate with whichever pins I think are fun.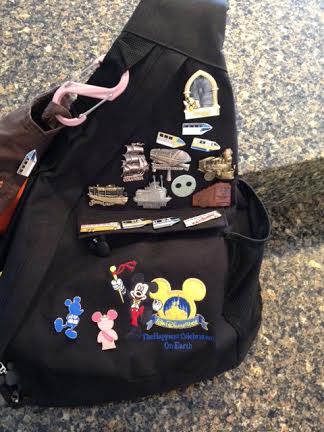 While you are at home, you may not have the opportunity to wear your pins in your real, non-Disney park life, but that doesn't mean that you can't proudly display them.  I have lots of my pins in pin books, but as I mentioned earlier, I have hooks on my wall for my pin lanyards, which are decked out with all manner of pins.  Another fun way to display pins is on a bulletin board.  A cork board is the easiest way to go because you can just push your pins into the cork and re-arrange them whenever you want.  This way, you can hang up your pins on the wall and enjoy them even when you aren't on vacation. Regardless of how you store your pins, it is fun to be creative with them and showcase them in your home so that you can enjoy a little Disney magic even when you are far away from the parks!