Host a Disney Pin Trading Party
If you are striving to find an interesting, enjoyable theme for a child's party, you may have already given some thought to something or another involving Disney. Disney characters, films, and television programs oftentimes are solid resources for party themes for young people.
Having noted that, you might desire something a little more unique than the typical Disney theme gathering. With that in mind, when it comes to planning a party for a child, consider a Disney Pin Trading party. This concept may be exactly what you need to make an event for a child unique and thoroughly enjoyable.
When it comes to planning and throwing a Disney Pin Trading party, there are a number of factors that you need to bear in mind. By taking these elements into account, you will be able to throw a Disney Pin Trading party that goes off without a hitch.
Set the Price Range
The first step you need to take when planning a children's Disney Pin Trading party is to establish a price range. Disney pins come in a pretty expansive price range. There are Disney pins that sell for as low as about $5. On the other hand, a large number of Disney pins that appeal to children end up in the $12 range. The key is to ensure that no child guest to the event is left out because of a cost issue.
Another strategy you should seriously consider employing for a children's Disney Pin Trading party is buying a series of pins on your own for use by the guests. In other words, you avoid the problem of individual children buying their own pins to trade by undertaking this task on your own.
In adopting this strategy, you best ensure that no child, or child's parent, is left to feel uncomfortable about the cost of buying a suitable pin. Yes, this will require you to spend some money. However, when planning a Disney themed party, you already know that there will be a cost above and beyond what you would pay for something more commonplace, and less iconic.
Tablescape for a Disney Pin Trading Party
The Disney pins themselves can become part if the tablescape when you plan a party of this type for children. For example, each table setting can somehow incorporate a Disney pin. They can be utilized as part of napkin holder. This can be incorporated into a place card.
The overall tablescape can become a magical takeoff from the pins that will be part of trading fun. You may have selected a specific type of Disney pin for the event. If the party is for girls, you might have elected Disney princess pins. If the party is for boys, you may have gone the superhero route. If the party is for kids of both genders, you may have elected to gather pins featuring iconic Disney characters. No matter the specific direction you have taken in regard to the actual pins, Disney offers an array of other party-related decorative items and favors that can be incorporated into the overall tablescape for the gathering.
A Trading Game
When it comes to a Disney Pin Trading party, you may want to devise a game through which the trading process itself can be undertaken. In this regard, some of the gift exchange games that are utilized during the holiday season can also be workable for a pin trading party.
You can go two different avenues when it comes to a Disney Pin Trading game. First, you can set up a game structured around the participants receiving wrapped pins. In other words, they do not know precisely what pin they initially have taken. They can undertake an exchange with other participants either before or after unwrapping a pin package. Second, from the start, the participants can be aware of precisely the pin they have in hand. This derivation of the game can be played when the Disney pins originally are presented as part of the tablescape.
An Informal Approach
If your child, or children, collect Disney pins, and have friends that already do the same, you can organize a more informal Disney Pin Trading party at your home. The children come prepared with pin trading in mind.
Nothing formalized necessarily needs to be arranged for the actual trading of pins. The participants can undertake this generally on their own, with some parental oversight to ensure the process moves fairly and smoothly. Other parents should be well informed that the intent behind a pin trading party is to give kids the chance to swap Disney pins, if they desire to do so.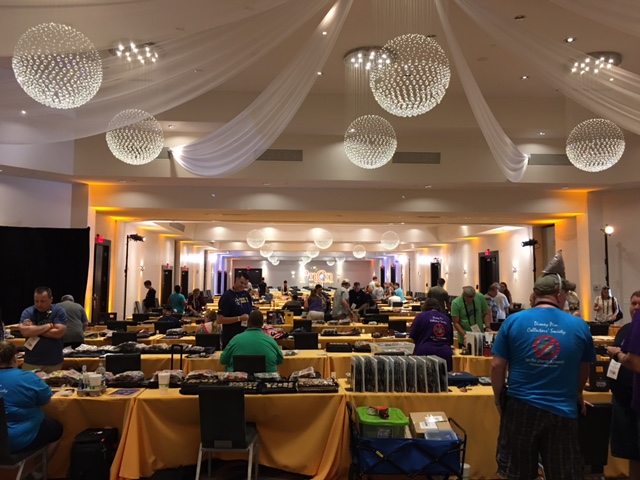 Events
Finally, a lot of these ideas can applied to ADULTS as well! Check our events page to find a Disney Pin event near you. If you host your own event, let us know and we will add it.
-Disney Pins Blog
---
Jessica Kane is a writer for Silver Superstore, home of the internet's best flatware.